Learn 10 Easy Things You Can Do To Detoxify Your Body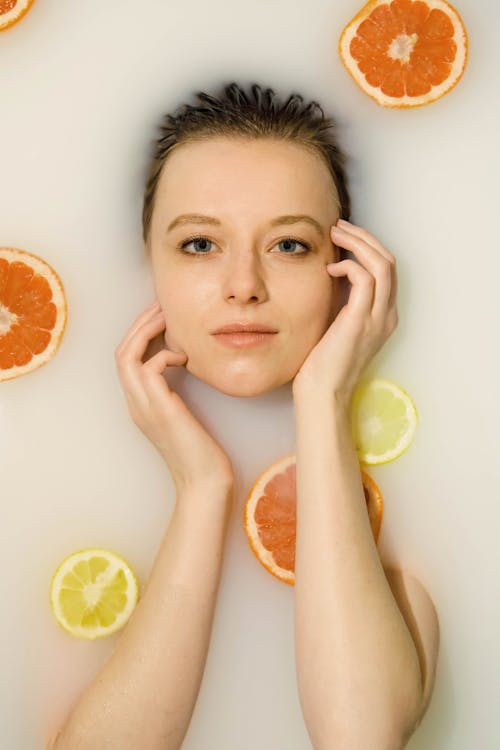 This year, changing from potentially harmful conventional beauty and personal-care products to clean ones is easier than ever before. Not only has the technology in "clean" and non-toxic goods kept up with conventional, but ingredient sourcing is more advanced; luxury levels have been taken to a whole new level!
We have crafted a unique detoxifying shampoo, an incredibly hydrating body cream, and a great face mask to provide you with the ultimate clean regime for any skin type or age. We've replaced traditional harmful preservatives, fragrances, thickeners, and more with nourishing botanical oils that cultivate healthy skin! Plus these formulas consist of luxurious textures and aromas leaving you feeling luminous from head to toe.
1. Exfoliant 
Indulge your skin with the 100% PURE nourishing Matcha Oatmeal Face Scrub! The combination of matcha powder and colloidal oatmeal works to delicately exfoliate, soften, and smooth the complexion. Packed with antioxidants and caffeine extracted from matcha green tea, this scrub reduces redness while neutralizing environmental pollutants that may damage the skin. French green clay further tightens pores for a more refined look, while vegetable glycerin makes sure your skin stays hydrated, so you can achieve a softer appearance in no time!
2. Clearing Mask
This ultra-concentrated mask treatment is designed to purify and restore oily, acne-prone skin. French green clay eliminates excess oil while eliminating dirt accumulation clogging pores, as well as environmental pollutants. Salicylic acid, lactic acid, and turmeric work together to reduce the visibility of scars left by breakouts and promote a healthy glow. Finally, an infusion of both peppermint and eucalyptus oils effectively soothes irritation caused by inflammation for an even complexion that radiates with serenity!
3. Body Wash
100% PURE has many products with natural ingredients for any skin type, but if you want deep cleaning and detoxifying experience, try the Blood Orange Shower Gel. This luxurious shower gel is infused with the uplifting aroma of sweet and zesty blood orange. It deeply cleanses away dirt, oil, and impurities while restoring hydration to thirsty skin using aloe vera extract and rose water. Red algae extracts help lock in moisture, while green tea helps tone your skin without harsh detergents or sulfates that can strip away essential oils from your delicate lipid barrier. Its formula uses gentle coconut-derived surfactants for a nourishing cleanse!
4. Body Cream
Experience the ultimate indulgence with the luxuriously Honey Almond Nourishing Body Cream. Infused with nourishing vitamins, antioxidants, and cocoa butter to leave skin feeling soft and supple, rose hydrosol replenishes essential hydration. With invigorating Kona green coffee and vitamin C to brighten your complexion for a more youthful-looking glow, finished off by a delicate scent of sweet honey-glazed almonds!
5. Invigorating Sponge
The detoxifying Konjac Charcoal Sponge from 100% PURE is the perfect solution for a natural, deep cleanse! Crafted with two simple ingredients – bamboo charcoal and konjac plant – this sponge draws out dirt, oil, and impurities from your skin while buffing away dead cells. Plus, its gentle texture makes it suitable even for those with sensitive skin types. With just one scrub of our facial cleansing sponges, you'll be left feeling refreshed like never before!
6. Relax With Essential Oils
Unwind and relax with this all-natural roll-on essential oil blend from 100% PURE, created with apricot and coconut oils for an added nourishing effect. The combination of peppermint, spearmint, and eucalyptus will leave you feeling refreshed while calming your senses. Take a deep breath – it's time to de-stress!
7. Detox Your Scalp
The Burdock and Neem Healthy Scalp Shampoo is a sulfate-free, natural dandruff shampoo, the ideal solution for a purifying scalp cleanse. It's formulated to unclog pores and increase circulation while delivering deep hydration with rose hydrosol and aloe, along with Vitamin E and Provitamin B5 to soften hair strands. The special blend of burdock, neem, and nettle helps reduce dryness & itching as well as flaking, so your hair remains healthy all day long! Plus it's safe enough for even color-treated locks too!
8. Diffuser For Dry Skin 
Take a deep breath with CAMPO's ceramic diffuser and bring intention to your day. This beautifully designed product utilizes innovative ultrasonic vibrations to distribute essential oils without the use of heat or burning, preserving each oil's natural properties as you change your energy levels and atmosphere. With this convenient tool, it has never been easier!
9. Face Massage With Rose Quartz
In our opinion, rose quartz is the ideal crystal to incorporate into your skincare routine for a more soothing and radiant complexion. The Mount Lai's Face Roller has a distinct Y-shaped design, this embellishing wand will help relax any tension while sculpting facial lines and contours; giving you firmer-looking skin with time.
10. Detoxifying Bath Salts
Allow this masterfully blended and profoundly therapeutic bath salt from 100% PURE to detoxify your body while also stimulating circulation. Combining ginger root, seaweed, and dandelion for toxin removal, heavy metal extraction as well as lymphatic stimulation; eucalyptus, tea tree, and rosemary infusions are added to further increase blood flow whilst filling the air with a calming aroma. Crafted from the crystallized kelp of an organic seaweed farm in Brittany, France, this detoxifying soak is power-packed with dozens of nourishing trace elements. Pure and natural salinity includes replenishing minerals, vitamins, antioxidants, and amino acids. Rejuvenate your body with revitalizing bath salts and submerge yourself for a blissful spa experience right at home!